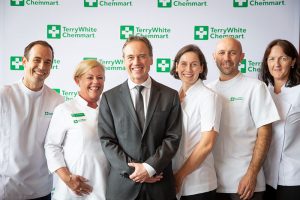 A highlight of the TerryWhite Chemmart Masterclass held in Melbourne this week was the address by Health Minister Greg Hunt, who spoke on the outcome of the 'King Review' report due out next month.
"I've taken a fairly conservative approach to that," he said referring to the report. "I won't pre-empt the outcomes, but there were some recommendations which were quite radical and would have shaken the pharmacy sector up."
Mr Hunt said that he, the Guild and the PSA have worked together to ensure that pharmacists have "security and continuity to get on" with their business.
"My basic approach has been to provide security for the current model and not to disrupt pharmacy as it currently stands," he said.
"We are very close to an agreement with the Guild which will significantly reduce the carrying cost of high-price medicines. I think that within the next six weeks we will have that agreement and, in terms of your cashflow, I think that is a very important outcome.
"One of the recommendations I have already effectively rejected was around the location rules – they wanted to significantly water down the current location rules model."
The minister also told the conference that he would not like to create false expectations around issuing Medicare provider numbers to pharmacists and the scrapping of the $1 co-payment discount on scripts.
"I don't want to create any false expectations," he said. "I am very aware that I have responsibilities both to pharmacies and to patients."
Mr Hunt said he would encourage all states to agree to pharmacists delivering flu vaccinations under the National Immunisation Program.
The contentious issue of pathology, after the scrapping of an Amcal-based pathology program, was raised, and Mr Hunt said it is a "great prospect".
He described it as a "national genomics mission which will include – and this is very important – point-of-care diagnosis, where much of the work that we see in terms of pathology will be done on site, whether it's at the doctor's or the pharmacist's".
"So, as you do your planning through this conference, I would stretch the horizons and think, 'What are our point-of-care diagnostic options in terms of the great new waves of pathology?'
"I've seen new wearable devices the same as a watch that can identify a heart attack in advance and provide a warning, and to see new forms of on-site diagnosis for sepsis.
"So, whether it'll be in the pharmacy or the clinic, you'll be able to do the testing on-site, so I would urge you to look at those opportunities in the planning to expand what you do as pharmacies."
In further news, Samford (Queensland) pharmacist Karen Brown has been awarded the 2018 TerryWhite Chemmart Pharmacist of the Year.
Announcing her win at the inaugural Heart awards, TerryWhite Chemmart's Chief Operating Officer Duncan Phillips said Ms Brown's passion for pharmacy, as well as her motivation and drive, made her a worthy recipient for the honour.
"By working closely with her team, Karen has redefined how people view their pharmacy," he said. "She has shown the strength of the TerryWhite Chemmart brand by proving we are a true hub of health services and not just a dispenser of medications."
As winner of the Pharmacist of the Year Award, Ms Brown receives $2,000 towards furthering her education, allowing her to continue providing the Samford community with the best possible advice and service.