By Juliet Pisani-Forde.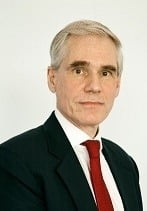 Ahead of the National Medicines Symposium (NMS) 2018 next month (May 30-June1) we spoke with international keynote speaker Dr Hans-Georg Eichler about his role at the European Medicines Agency and contemporary medicines regulation.
Can you please define your role within the European Medicines Agency?
My role as the Senior Medical Officer is to coordinate scientific issues across the various committees of the agency, to advise on strategic matters, to represent the agency externally and to foster the scientific activities and reputation of the agency.

How do you achieve a balance between being a gatekeeper and an enabler in the emergence of new technologies?For example, how do you establish a threshold benefit at which you would approve a drug, and how much of a role does financial cost play in this decision-making?
Drug regulatory agencies are mandated to protect public health, but also to promote it by ensuring patients' access to safe and effective drugs. It follows that the drug regulator's role is to be a gatekeeper – by ensuring the safety and efficacy of drugs to be licensed – and, at the same time, to be an enabler of timely access to beneficial drugs. Both roles must be considered simultaneously in the course of a regulatory benefit-risk assessment.
While the overriding principle that a drug's benefits must outweigh its risks in a defined patient population is cast in law, there are no hard and fast rules, and no hard thresholds, as to how much of a benefit is required for a given level of risk (or vice versa). These are necessarily case-by-case decisions driven, in large part, by the unmet medical need that is at stake for patients. The higher the unmet need (eg, a life-shortening or severely debilitating disease with no/few or unsatisfactory alternative treatments) the more risk is generally deemed acceptable.
The (anticipated) cost of a drug plays no role in the EMA's decision-making. In fact, EU legislation stipulates that benefit-risk assessments should be conducted "to the exclusion of economic considerations". It is for the EU member states to address the value-for-money, cost, and sustainability issues.
In recent years, medicine has become increasingly dynamic. Drug trials are increasingly showing benefits and often these trials are performed in those patients with more advanced disease. Thus, the desire for patients to access these drugs couldn't be greater and is often funded privately due to time pressures. Could you share your perspectives on how the Australian regulatory process can be shortened so that when a drug is ARTG-listed, it is considered in a timely manner for PBS listing? Are there new models for this process emerging in Europe?
We are keenly aware that for some patients (eg, those with a life-shortening disease) time is of the essence. They cannot wait until all the evidence about a drug is in, all the procedures are closed, and pricing and reimbursement negotiations are completed. We aim to make promising new drugs available for them as fast as is reasonable. This is achieved in several ways:
First, by prioritising promising products for high unmet need and putting them through the regulatory assessment and licensing processes faster than usual.
Second, by asking what critical evidence about the drug's performance needs to be available on the day of licensing and what information can be provided later, with a view to shortening the initial development process.
Third, by attempting to eliminate or reduce the 'white space' between the regulatory licence and the pricing and reimbursement decision. In some EU member states that white space was reported to be upwards of two years, in some cases. We now work closely with health-technology assessment bodies and – increasingly – with EU payers to help reduce that gap. This is not about price points, but about aligning evidence requirements across these decision-makers and sharing information as early as possible.
I am not an expert on the Australian healthcare system, but, given the similarities between the healthcare systems in EU member states and Australia, our experiences with the latter point might be of interest for Australian decision-makers.
How have you found the relationship with pharmaceutical companies regarding compassionate access programs during the lag time between a drug being of proven benefit and being made publicly available?
Compassionate use in the EU is generally understood to cover the provision of yet-unauthorised medicines with assumed benefit to patients with chronic, seriously debilitating or life-threatening disease in situations where alternative treatment options are non-existent, unsatisfactory or have been exhausted.
The law states that "the medicinal product concerned must either be the subject of an application for a marketing authorisation […] or must be undergoing clinical trials." There were very few cases of compassionate use brought to the EMA over the past years; partly this is due to the fact that member states may deal with the issue themselves. EMA is not concerned with the issue of whether a company provides free drugs during the period between marketing authorisation and a national pricing and reimbursement decision.
With the emergence of drug-resistant TB among other diseases that require combination-drug regimens, what hurdles have you had to overcome to allow access to these regimens?
In recent years, the burden of tuberculosis resistant to first-line therapy has increased rapidly. Drug-resistant tuberculosis is associated with a high mortality rate and poses a significant public-health threat.
Treatment regimens for drug-resistant TB are generally complex (many drugs with less-than-perfect efficacy are combined) and lengthy (and therefore with increased toxicity). Additional issues are availability of rapid diagnostic tests and tests that detect drug resistance, leading to a relatively small number of single drugs and drug regimens in an advanced stage of clinical development.
Some of the clinical-study designs that were suggested in the past, such as those intended to demonstrate superiority of a new agent versus placebo, when each is added to optimised background regimens for patients with highly drug-resistant TB (DRTB), may not be feasible anymore.
Two medicines that specifically target DRTB, bedaquiline and delamanid, have nevertheless been conditionally approved in recent years, and both of them are approved to be used as a part of an appropriate combination regimen for multidrug-resistant TB.
To support efficient development of more new drugs, consideration has been given by the EU regulator to the recent advances in the application of pharmacokinetic-pharmacodynamic (PK-PD) analyses to identify potentially efficacious doses and regimens for further clinical evaluation, but also to the shift in focus towards the development of new regimens that include one or more new agents that would allow for a shortening of the duration of therapy in patients susceptible to the agents in the regimen, regardless of their susceptibility to other anti-tuberculosis agents.
All these considerations are reflected in a new clinical guideline for developers of TB drugs ('Addendum to the guideline on the evaluation of medicinal products indicated for treatment of bacterial infections to address the clinical development of new agents to treat pulmonary disease due to mycobacterium tuberculosis', adopted by the EMA Committee for Medicinal Products for Human Use in 2017).
You can hear Dr Hans-Georg Eichler speak further on these topics at NMS 2018 at the National Convention Centre, Canberra from May 30 to June 1, 2018. For more information, please visit www.nps.org.au/nms2018.